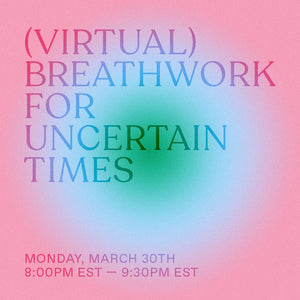 Virtual Breathwork for Uncertain Times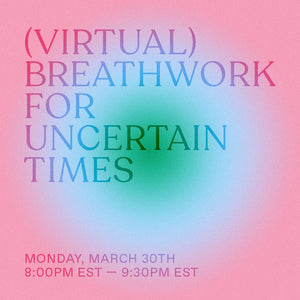 March 30th
8:00pm EST — 9:30pm EST
I think we can all agree that this is a very weird time to be alive! We're collectively experiencing something more difficult than we ever have in our lifetimes, and it affects us on numerous levels. Because of this, we're experiencing a range of emotions, from general "okness", to feeling totally overwhelmed, scared, or angry. 
In this Breathwork Meditation, we'll work to move any stuck energy and emotions that are within our body, clearing and making space for love, gratitude, gentleness, and ease. This is also a beautiful opportunity to come together in community, in order to heal ourselves and the collective.
No previous Breathwork experience is necessary. In this virtual group we'll come together via Zoom, chat a little, ground, and then lay down for the Breathwork Meditation. I'll be guiding you every step of the way, and the breathing pattern will be taught before we dive into the Meditation.
You'll be sent a Zoom link prior to our gathering. A recording of this Breathwork Meditation will be emailed to you within 24hrs after the meditation is over, so no biggie if you can't make it during the scheduled time. You can also repeat this meditation using the recording if needed.